October isn't in the middle of the calendar year, but it feels as though we're right in between things. It's not the end of the summer/beginning of the school year anymore, and yet it's not quite the holiday season either. Even though we still have one month until Thanksgiving and two until the December holidays, October offers much to celebrate.
From Indigenous Peoples' Day to Farm-to-School Week to the Urban Agriculture Collective Garden Gathering, the Cultivate community has been hard at work sharing history; honoring the stewards of our land; strengthening the bond between fresh, local produce and our school meals; and thanking everyone who has made our Community Market Days successful in the middle of a pandemic.
If you missed reading our indigenous acknowledgement in the September newsletter, you can find it on our website on the MISSION page. Farmer Rich wrote Indigenous People and the Legacy of Land—the first in our series Land is Liberation—for the Cultivate blog, which you can also find on our site under STORIES.
Also on our BLOG page, you'll find some of Cultivate Charlottesville Community Advocate Rosa's secrets for the best collard greens. CSG is spotlighted collards as the October Harvest of the Month, and you can watch Jordan interview Leni Sorenson about her recipe over on our YouTube channel.
It goes without saying that everything has been done different since March, and Farm-to-School Week was just one of many things that had a strong virtual component this year. In the CSG section below you can read more about the fun and educational things the students and their families did during the first week of the month.
At the beginning of the year, UAC was prepared to ask lots of neighbors to help push through a season without the Friendship Court garden land, and COVID-19 didn't stop a multitude of partners from growing a bushel for their neighbor. Just goes to show we don't have to wait until November to be thankful!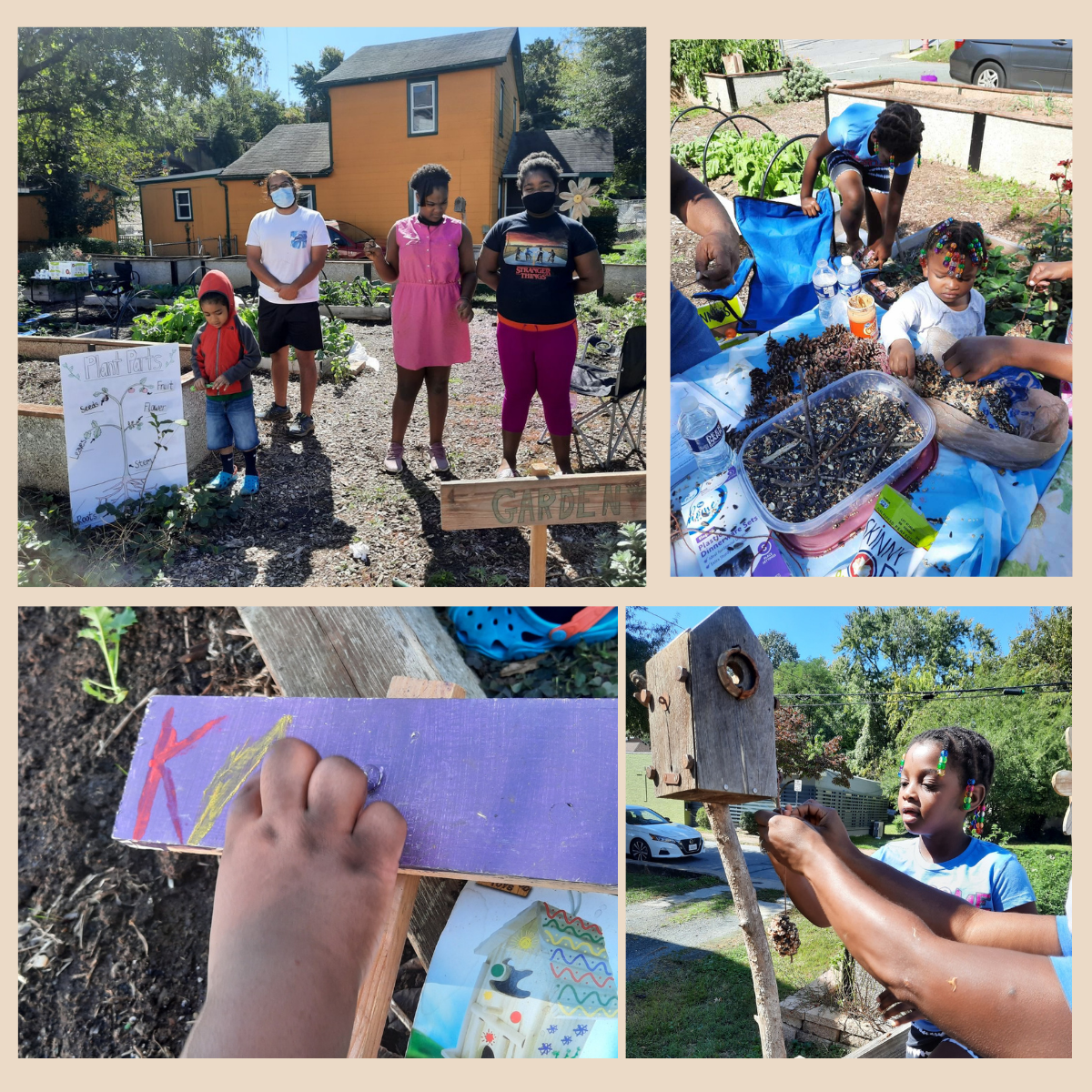 Yolonda and Leon host students in the City of Promise garden
While like most things, Farm to School Week looked different this year, it was nonetheless an amazing week filled with great food, wonderful farmers, and awesome farm animals! What happened this Farm to School Week? Let's take a look!

Our garden coordinators took to Youtube to share with their students and the Charlottesville community what is going on in the gardens they care for. Watch this compilation video to check out footage of all of the gardens or head over to our Youtube page to take a look around each garden individually!
Harvest of the Month is a City Schoolyard Garden program that works to bring a fresh, local side to the lunch line and classrooms each month. This Farm to School Week, we packaged and sent out over 500 bunches of collard greens with Charlottesville City Schools meal distribution in honor of Farm to School Week and Harvest of the Month. Watch this awesome video of Leni Sorensen, farmer and food historian, cooking collard greens to celebrate the October Harvest of the Month. Along with the collard greens, we had our very own Cultivate Charlottesville board member and Charlottesville City Schools board member Juandiego Wade read the book "Up, Up, Up! It's Apple Picking Time!" Take a listen! To round out the week of fresh local food, the Charlottesville City Schools Nutrition staff worked hard to provide a from-scratch meal of squash or zucchini, roasted potatoes, and baked chicken for Friday's meal distribution.
But that's not all—our garden coordinators have started weekly Garden Clubs with small groups of students, and the Greenbrier Garden Club got a special visit from farmers Laura and Steve Brown of Casa Alma who brought along one of our favorite four-legged friends Alice! Students learned all about goats: that they like to eat things like twigs, leaves, and greens; that they have 4 stomachs; and that their pupils are rectangles! Garden Club students enjoyed petting Alice and trying to get her to eat their orange peels!
Over at the Friendship Court Garden Club, students did an activity where they learned all about crops that are grown in Virginia. Using an interactive poster, they were able to sort and match different food products from the crop that they are made from! It was a great way to get students thinking about farming and what plants go into different foods they eat.
We had a wonderful week celebrating all things food and farming through farm visits, virtual tours, and getting fresh local food to our CCS students. We already can't wait for next year!
Clockwise from top left: Mackenzie, Yolonda, and Jordan prepare bunches of collard greens to go out with student meal distribution; Students play with Alice the goat from Casa Alma; October Harvest of the Month poster; Alice is ready for her close-up
URBAN AGRICULTURE COLLECTIVE
2020 UAC Garden Gathering

Everyone loves the last minute save. It's that cliffhanger moment when all hope is lost. Then, a missing person is found safe, a kind stranger returns a dropped wallet, or a one-handed catch in the end zone wins the big game.

UAC's cliffhanger moment came at the end of 2019 when most of our urban farmland was slated for redevelopment. We put out a call to our community partners to help us meet our production goals for 2020. That call was answered by many in the form of golden hued potatoes, ripe red tomatoes, and bright leafy greens. Our 6th street garden also performed above expectations making for a very good growing season.

On Saturday, October 17, we held our 2020 Garden Gathering to celebrate our heroes in the community who came through for us with a last minute save. It was the best of Fall days, with clear cool weather and bright color. Amid pumpkin carvings and cheerful laughter, we shared produce with the community one last time before the bracing embrace of late Fall brings garden operations to a close.

With deep gratitude we would like to thank all of the partner organizations, programs, and backyard gardeners who contributed their bounty to our community produce larder. They are…

Bellair Farm, Loaves and Fishes, Charlottesville High School, Free Union Country School, Morven Kitchen Garden, Bread and Roses, City Schoolyard Garden, IRC New Roots, Crooked Willow Foodstead, Homewood Community Garden, Michael James, Tracey Garlach, Grace Carbeck, the UVA APO and UAC volunteers, and all the people of this wonderful community who joined forces for a common good in these trying times.

Thank you.
UAC Garden Gathering clockwise from top left: Neighbors stop by to get fresh produce; October = Jack o' lanterns; A neighbor picks out something that is just gourd-eous; Farmer Rich, Michael; Nick, Rosa, and Jenifer at the 6th Street garden
Food Justice Network is ending out another year of coordinating City Council's Food Equity Initiative. This year was focused on deepening collaborations for community action in the areas of healthy school foods, urban agriculture, and affordable housing. With the onset of COVID, we've been challenged to accomplish so much more. FJN will present year two of the Food Equity Initiative on November 16th, 2020 to City Council. You can show your support by registering to attend and share a public comment in support of Charlottesville Food Equity.
There are also ongoing opportunities to engage in the City's Strategic Planning process and Comprehensive Plan. Learn more on our Take Action site or contact Gabby Levet (below).
Urban Agriculture Collective Volunteer Schedule Summer/Fall 2020
For more information or to join Food Justice Network full team meetings, contact Gabby Levet at gabby@cultivatecharlottesville.org
CULTIVATE SOCIAL JUSTICE BOOK CLUB
From all of us at Cultivate Charlottesville—a hearty thank you to the many new supporters that have pitched in to keep our work going to build food equity during COVID-19 and beyond.
VIRGINIA ROADMAP TO END HUNGER
Virginia Roadmap to End Hunger presentation in Richmond clockwise from top left: Commissioner of Agriculture Dr. Jewel Bronaugh and Jeanette; Former Virginia First Lady Dorothy McAuliffe; Aleen and Jeanette LOVE Virginia; Cultivate Charlottesville is profiled in the Virginia Roadmap to End Hunger
CULTIVATE POSITION OPENINGS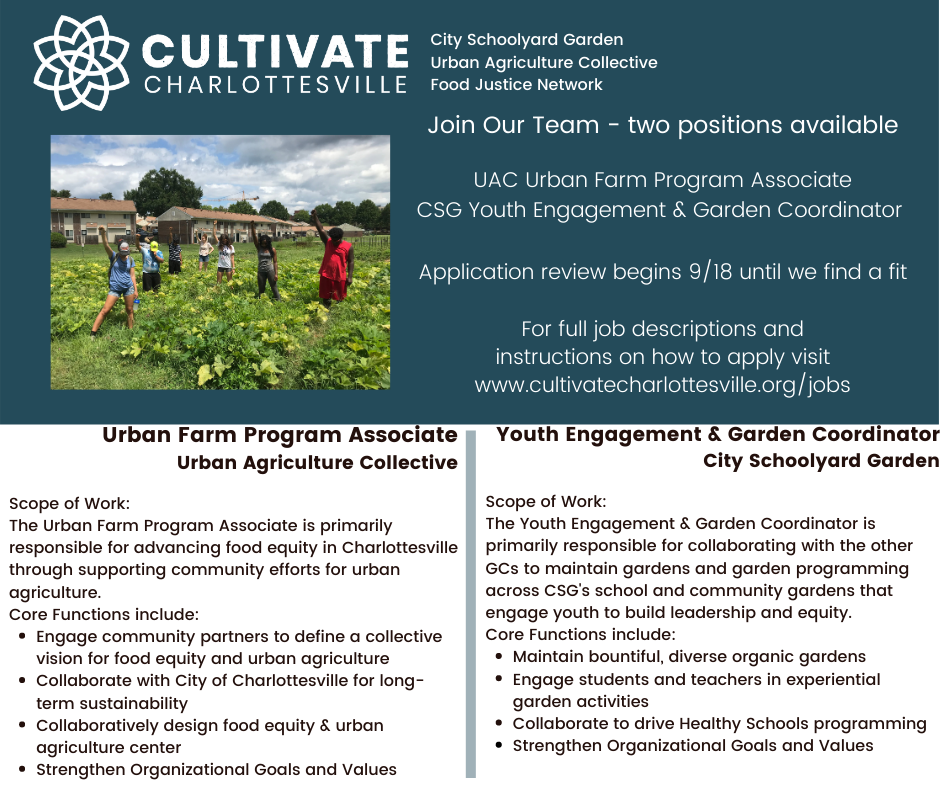 At Cultivate Charlottesville we believe that working together to grow gardens, share food and power, and advocate for just systems cultivates a healthy community for all.
Our Contact Information
*{{Organization Name}}*
*{{Organization Address}}*
*{{Organization Phone}}*
*{{Organization Website}}*

*{{Unsubscribe}}*