The UAC team was dropping off supplies at CATEC for our seedling room when one of the administrators came in and was very excited to show us that they bought a truck for the EMT and Fire Science students to practice on. They also built a realistic maze for students to practice crawling in and lifting out life size mannequinS
It's a new year! We're certainly excited to welcome new Cultivate team member Shamera Banks as Farm to School Coordinator with our City Schoolyard Garden program. We're also pretty fired up about two urban farm spaces that will see us planting and harvesting again in 2022. This will be our first full season at Charlottesville-Albemarle Technical Education Center (CATEC), where we have already laid roots of collaboration with the students and faculty. In addition, we will be working the land again on West Street (behind the Region Ten building) that has been stewarded by the International Rescue Committee (IRC) New Roots farmers for the last number of years.
While new people and places are getting us moving this January (as we continuing to wrestle with the COVID-19 pandemic) we're still equally as dedicated to our ongoing initiatives around food justice. 2022 will bring new cohorts of youth food justice interns and community advocates, we will hire for two new positions this year (see below for more information), and we will continue to collaborate with community members and city leaders to focus strategy and resources on a healthy and just food system for all residents of Charlottesville.
Thank you to everyone who supported us in 2021. You all continue to volunteer (in a safe manner), follow us and amplify our message on social media, sign on to voice your agreement with our work, and generously donate to help fund our mission—we are able to LEAN IN because you CHIP IN!
2021 Youth Food Justice Interns
Everything must have an end, including 2021's cohort of interns as February comes around the corner, so what better way to appreciate our interns than highlight some of the work they've committed to during the last couple of months.
Charlottesville is known as a diverse foodie town, so it's natural to explore the foods we eat from our own backgrounds and share them with our team. The first meal our interns cooked was Sopa de Fideo, a common Hispanic soup. Another dish we cooked was momo dumplings, one that an intern was excited to share and teach to her peers. A nice warm meal is an excellent way to appreciate the diversity of our city, while also decompressing when discussing the concerns our youth have to make efforts to make Charlottesville more equitable for our community.
As spring comes around the corner, Cultivate prepares for our yearly Spring Seedling Project and our interns have been an excellent help. The interns have cleaned our containers for our seedlings which we appreciate very much. They have also helped pick some of the seeds to grow for the spring, keeping in mind what our community would like to see; we all hope our community will love the selection they've given.
Working with the next leaders of tomorrow has and always will be a privilege. As we come to a close, we wish nothing but success for not only our youth interns but all the youth in our city. We hope to see both returning and new faces for 2022's youth interns!
New Roots
In November, the UAC team met with the New Roots growers from the International Rescue Committee (IRC) in the West Street garden, a 9000 square foot growing space nestled in a quiet neighborhood at 848 West St. Did you know that UAC cared for this garden for years before folks at IRC became the stewards of this land? In May of 2018, The New Roots Urban farm near Azalea Park flooded, leaving all of their crops destroyed. When this happened, UAC was operating at multiple sites throughout Charlottesville, so they handed off the West Street garden to New Roots. Since IRC will be moving to a new space in Crozet next year, UAC will manage this space once again. At this meeting with IRC, we were shown around West Street and reminded of some of the quirks of growing in this space. It's always rewarding to spend time with our partners as we work towards an equitable future in Charlottesville.
Land loss and constantly having to move to different growing spaces is one of the many challenges of working in urban agriculture. Growers tend to farm on leased land for a few years until redevelopment occurs and they are forced to cease operations or move to another space. This model slows progress and is unsustainable in the long term. In our case, we are happy to see our former garden at 6th street be transformed into affordable housing units, but it's possible to prioritize both fair-priced housing and beautiful greenspaces in the city.
Communities lose more than just access to food when urban agriculture space is lost. When we lose our gardens, we lose beautiful healing and gathering spaces that foster community connection. That's why we are following the lead of residents in advocating for green growing spaces to be integrated into redevelopment plans and public parks. Check out this article from Charlottesville Tomorrow about this issue. We'll keep you updated on this journey.

Let This Be Nourishment for Our Bodies
Written by Community Advocate Team Lead Tami Wright
Sundays at our house was a routine. It began with church and ended with an amazing dinner, Sometimes Sunday began on Saturday. If my hair needed a fresh style it was washed on Saturday and straightened early Sunday morning. I hated the straightening comb but loved when I could wear my hair out. Cooking for Sunday would often start Saturday night too. I can remember my grandmother telling my cousin and I not to run through the kitchen, so her cake wouldn't fall while it was in the oven. It was usually a yellow cake, with chocolate icing. If we behaved, she'd let us lick the spoon!
My favorite Sundays were the ones when we went to Grandpa's. His house was on the same road as the church, in Louisa County VA. This was Grandma's father. She loved her Daddy! He was elderly and didn't always get to church. After service we'd sometimes gather there so Grandma, her sisters, and my aunties could cook for him. Grandpa's house always smelled like a combo of kerosene and cigarettes. HE always gave Grandma money to buy his cigarettes and few extra dollars to send to Jimmy Swaggart. This was the house Grandma grew up in, I remember when the bathroom was added to the house. I also remember the wood stove they cooked on. Whew, it made the house so hot! My cousins and I would run around playing outside while the meal was being prepared, trying our hardest not to run our tights or scuff our patent leather shoes.
Together we can move Charlottesville from a foodie city to a food-E(quity) place for ALL residents!
For more information or to join Food Justice Network full team meetings, contact Gabby Levet at gabby@cultivatecharlottesville.org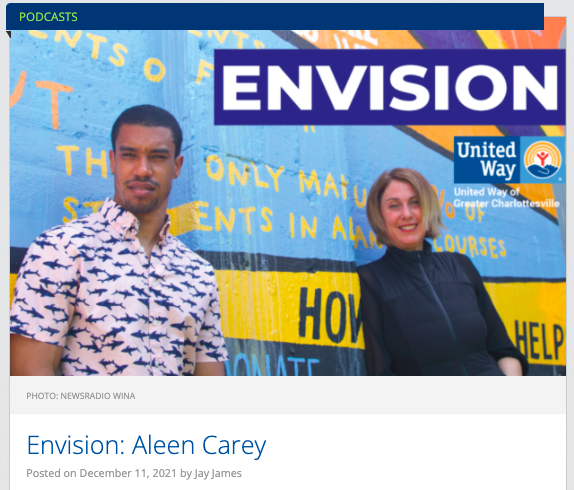 Cultivate Outreach and Resource Director Aleen Carey spoke with Ravi Respeto and Price Thomas from United Way of Greater Charlottesville for their Envision podcast. Ravi and Price are the Executive Director and Director of Marketing and Public Relations respectively, and they have been interviewing people from all over the Charlottesville landscape.
At Cultivate Charlottesville we believe that working together to grow gardens, share food and power, and advocate for just systems cultivates a healthy community for all.
Our Contact Information
*{{Organization Name}}*
*{{Organization Address}}*
*{{Organization Phone}}*
*{{Organization Website}}*

*{{Unsubscribe}}*