If you're anything like me, you start thinking of sweet potato pie the moment your Halloween costume comes off each year! Well, our coworkers on the UAC team and our new friends at CATEC have got us beat this year—they didn't wait for Thanksgiving to break out the goodies. UAC planted these humongous "sweet taters" as Farmer Rich calls them, long ago in anticipation of Community Market Days. Community members who live in any public or subsidized housing neighborhood in the city can find the UAC team at the weekly location (rotating between Friendship Court, Midway Manor, Crescent Halls, Westhaven, South 1st Street, and CATEC) with pounds of fresh produce. Neighbors can pick out the produce they need for the week ahead at no cost. So, many of our neighbors have already the extreme pleasure of tasting these taters.
The CATEC Technical Eats! Food Bus offered other members of the public a taste of the crop when they used those UAC beauts in their recent Tex-Mex lunch day; they served chorizo sweet potato quesadillas alongside butternut squash soup and southwestern salad with chicken and avocado dressing. Is your mouth watering, or what?
On the bitter side, our October UAC Community Garden Gathering was the last to take place at our garden space at the corner of 6th Street and Monticello Avenue. The 6th Street site has been an integral part of production and has hosted many youth for after school garden clubs. We're sad to say goodbye. For now.
Farm-to-School Favorites
This year we expanded our observance of Farm-to-School week, usually the first week of October, to celebrate Farm-to-School month. Recognizing the importance of local farms for the entire month of October made room for more visits from chickens, bees, and more discussions about our food system. Teachers organized the first Farm-to-School event of the month at Clark Elementary, a visit from local beekeepers, Karen and Ken Hall. Students learned about the importance of pollinators and observed a demonstration hive, tasted different kinds of honey, and learned how to use a honey extractor.
Farm-to-School month wrapped up at Clark with an entire day of activities and a visit from Urban Agriculture Collective (UAC) team members Michael James and Brianna Patten. Michael started out lessons by asking students what they might find on farms: "Chickens! Cows! Vegetables!" many students replied. Michael went on to say that the UAC garden primarily focuses on growing vegetables for community members.
Many of the students who attend Clark are residents of Friendship Court and were familiar with the UAC garden that was previously located behind their neighborhood. Before COVID-19, the garden was moved to the field next to 6th Street housing to prepare for redevelopment at Friendship Court. A number of Clark students have worked in the 6th Street garden as part of an afterschool garden club that started in the Spring of 2020 and has continued into this fall.
Students enjoy Farm-to-School activities at Clark clockwise from top left: posing proudly beside a student-designed scarecrow; observing the chickens; another set of students with their scarecrow; students work with librarian Ms. Craig to turn compost in preparation for laying on the garden beds
Bittersweet Harvest
The weather is cooling down and so is the growing season. We've harvested the last of our tomatoes and greens at the 6th street garden. It's bittersweet knowing that this will be our last year growing produce at 6th & Monticello. Due to city redevelopment, the plot of land where the garden has been since 2007 will be used to build affordable housing. While we're happy that the city has committed to build new affordable homes, we sure will miss connecting with the community at this site. Don't worry though, we will still be growing plenty of produce throughout the city! Our biggest garden will be at CATEC. It's a 10,000 square foot plot we are currently prepping with the Piedmont Master Gardeners. We've already started to build great relationships with the staff and students at CATEC.
The Culinary Arts department helped us host a market day this month by preparing free bags of produce for students. In the future, the Culinary department plans to prepare delicious meals out of the vegetables grown at the school. Stay tuned, we may be bringing those meals near you next year!
Clockwise from top left: Community members at the UAC Community Garden Gathering; a pumpkin decorated at the event; freshly milled beautiful red cedar for our raised beds at CATEC; millers work at UVA Morven Farm volunteering their time to help us ready our CATEC garden

Honoring the Charlottesville Twelve with Sundials
Current Cultivate Charlottesville youth food justice interns collaborated on a community project that began with the design of a sundial from a previous cohort of their peers that paid homage to the Charlottesville Twelve. In 2019, for the 50th anniversary of the integration of the public schools in our city, the interns decided to recognize the courage and tenacity exhibited by their elders—the students and their parents who integrated the Charlottesville City Schools in September 1959 after a year of massive resistance.
"The conversation began because the interns were talking about ways to deal with the trauma of the Unite the Right Rally and online racist threats that had closed schools in the spring. They wanted to find a way to celebrate the positive and move towards healing," remembers former Youth Leadership and Garden Educator Shannon Gaffey.
After production delays due to COVID-19, the sundials were completed and ready to reveal.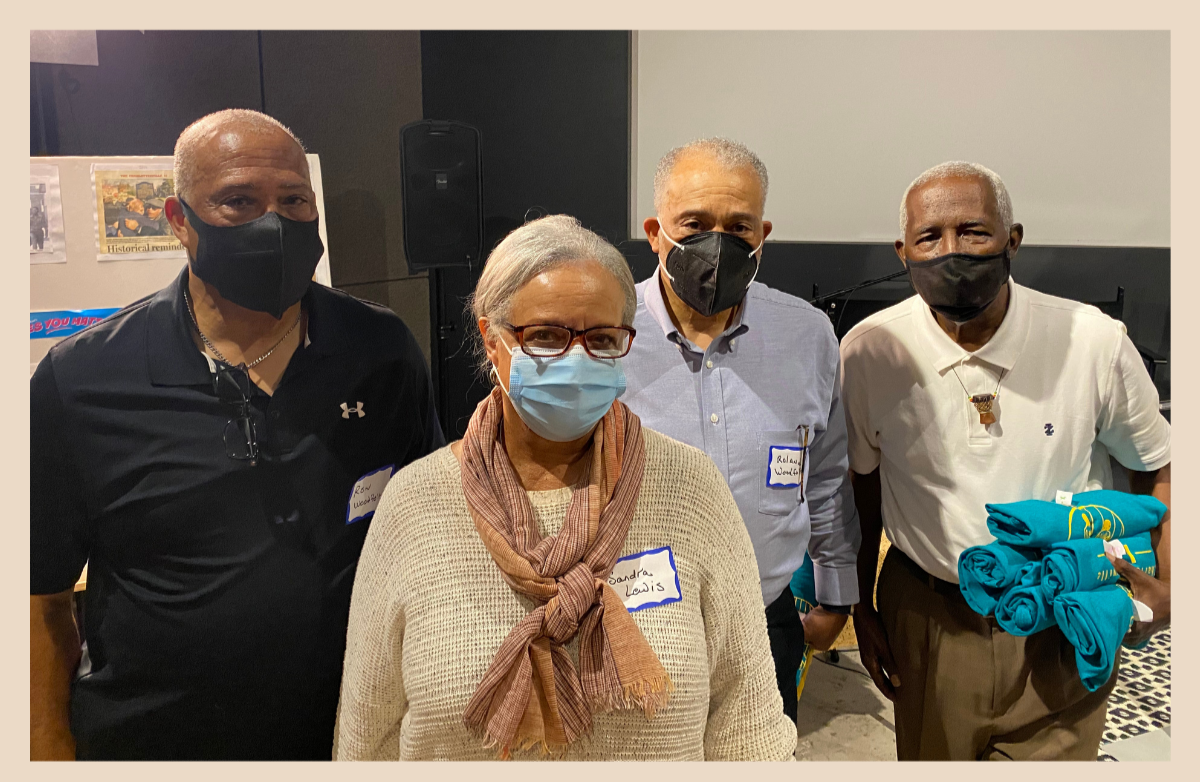 More people than we can name join together for the Charlottesville Twelve Sundial Celebration. Top photo: Sandra Lewis looks at the sundial face. Bottom photo: the living members of the Charlottesville Twelve, from left to right: Ronald Woodfolk, Sandra Lewis, Roland Woodfolk, and Charles "Alex-Zan" Alexander
Together we can move Charlottesville from a foodie city to a food-E(quity) place for ALL residents!
For more information or to join Food Justice Network full team meetings, contact Alfred Shirley at alfred@cultivatecharlottesville.org
CATEC Technical Eats! Food Bus serves it's Tex-Mex menu of chorizo sweet potato quesadillas, butternut squash soup, and southwestern salad with chicken and creamy avocado dressing. Said Farmer Rich, "Those are UAC sweet taters!"
At Cultivate Charlottesville we believe that working together to grow gardens, share food and power, and advocate for just systems cultivates a healthy community for all.
Our Contact Information
*{{Organization Name}}*
*{{Organization Address}}*
*{{Organization Phone}}*
*{{Organization Website}}*

*{{Unsubscribe}}*