Winter in the Gardens
December 2019 Newsletter
Buford Garden Aides Share Their Stories
One of the most meaningful and unique parts of the Buford garden Aide classes is that students meet every day with the same small team to work towards two common goals: cultivating healthy food and peaceful, beautiful spaces for every student at Buford Middle. It's been a jam-packed semester, and it's hard to believe that winter break is already here. Beyond that, spring planning lies just around the corner. Before looking forward to the next season, Demetrius, Jeremy, Ananda and Caroline, the 4th period Garden Aide class, took a moment to reflect on their favorite highlights from the fall semester. We hope you enjoy!
Cooking by Ananda
Hello, my name is Ananda, and I am a seventh grade Garden Aide. In this blog post I will be telling you about the treats we made from food that we harvested.
One of the first things we made were pickles. We created a brine and harvested seasonings from the garden. We also made cornbread from ground corn. We gutted pumpkins and pureed the flesh and toasted the seeds.Using the pumpkin puree, we made pumpkin pancakes.
We also made popcorn over the fire with the popcorn we grew. We then cut up apples and put them in a crock pot to make apple butter. It was delicious, but Jeremy didn't like it because he hates cinnamon.
To read more from the Garden Aides, see pictures and read a poem written by Caroline, go to our blog.
Harvest of the Month at Clark Elementary
This year at Clark Elementary, the Harvest of the Month program has extended outside of the cafeteria and into the library. The Harvest of the Month program serves up local, seasonal fruits and vegetables once a month throughout the school year. Students sample it on the lunch line or in the cafeteria when it's handed out by volunteers.
The Clark librarian, Mary Craig, has incorporated Harvest of the Month fruits and vegetables into 1st and 2nd grade library time so that one week out of each month, students have a hands-on garden activity, combined with a related book, and a taste test.
Classes started out the year learning about their Clark community garden and taste testing watermelon. Before they ate their watermelon slices, students estimated how many seeds were in their slice, and then counted the actual number of seeds. The watermelon was a welcome treat during a September heat wave!
Pears were the star of the last lesson. Classes read the book, Are we Pears Yet?, about two impatient pear seeds waiting to turn into pears. Students taste tested three different varieties of pears: Anjou, Bartlett, and Asian and voted on their favorite variety. Each class chose a different pear as their favorite!
For this month's sweet potato lesson, classes learned about how sweet potatoes are different from white potatoes (they're not even related!) and how they grow underground. After looking at a potato printing book, students used sweet potato halves to stamp out sweet potatoes, showing how they grow underground. Students added vines above ground along with purple flowers. If you ever see sweet potato flowers, they look just like morning glories – they're in the same family!
It has been a great school year, filled with lots of delicious fruits and vegetables! We are so excited to see what the rest of the year brings. If you are ever at Clark Elementary School, make sure to stop by the entrance of the library to see what Harvest of the Month fruit or vegetable is on display!
National Community Food Systems Conference in Savannah
December 10th , 2019 brought your City Schoolyard Garden and Charlottesville Food Justice Network team members to Savannah, GA for the Community Food Systems Conference as key workshop presenters during the 2-day summit.
Our diverse team of 3 youth food justice interns from Charlottesville High School, Grace King, Emmanuel Quezada-Romero, and Amyah Limbacher, alongside mother and community food justice advocate Tamara Wright with her children Legend and Jayleana held an engaging workshop on defining food justice within each sector of our community food system. After giving an overview of our organization's food justice programming, their session invited participants to reflect on their personal knowledge of unfairness that occurs and how we can create paths for equity to shine through within each sector. As a group we moved around the room and held discussions about production, transportation, processing, distribution, consumption, waste and recycling. Participants were allowed to share personal stories from their own communities or work they're engaged in.
Without a doubt, our Charlottesville team gave a national audience something to think about as it relates to building equitable and just food movements across age, race, class, and educational backgrounds.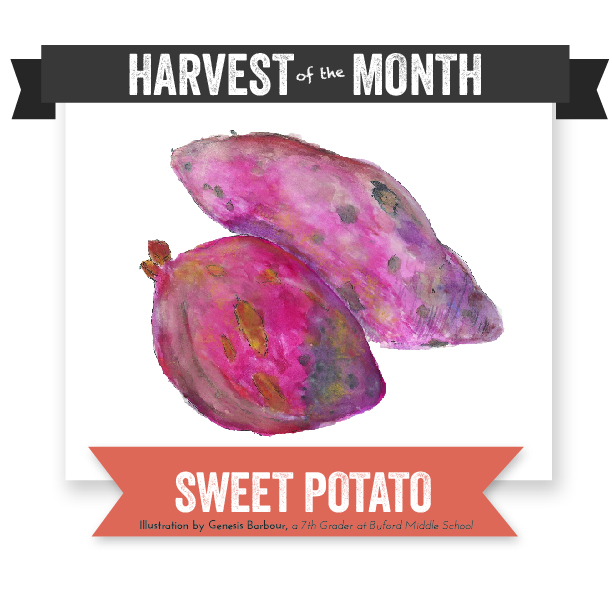 Harvest of the Month is in full swing this year. Now, in our fourth month of the year, we are highlighting SWEET POTATOES.
We've been so excited this year to make some additions to the Harvest of the Month program. Firstly, this summer we met with Carlton Jones, Nutrition Director at CCS, who agreed to highlight the Harvest of the Month crop once, sometimes twice a month on the lunch line– adding more exposure to the crops this year. So far we have highlighted local Watermelon (September), Zucchini (October), Asian Pears (November), and Sweet Potatoes (December) all of which have made their way into the lunch lines each month.

CSG has also set priority to highlight the crop at events and in the garden spaces more as you may have seen all our social media pictures of students eating watermelon out in the CSG gardens or the lessons with . These additions to our program, in combination, have strengthened the connection between the monthly taste tests with the food that we eat in the garden and food that gets served up on the lunch line.
Calista started in the garden as a 7th grader at Buford. Now, she is 18 and leading others in the garden as a Garden Associate with CSG. Here she is pictured with third-grader Alex.
"Working with CSG has helped me to use my voice and share my opinions too. It's been a safe place to practice being a leader because I know that the team cares about me and that we are working together to grow something beautiful." –Calista Barbour
When students work in the garden, they get to make choices. They take leadership in deciding what to plant, figuring out what work needs to be accomplished to help the plants grow, and helping younger students learn how to use tools. This leadership development in the garden also provides a calm and healing environment for Charlottesville's youth.
Students of all ages report that the garden provides the space and freedom that tempers some of the demands on their day.
We are just $3,000 short of our year-end goal! Can you give today to ensure Charlottesville youth are provided opportunities to lead in the garden?
Join our Cultivar Partners.
Are you interested in Volunteering?
Make sure that you're signed up to receive the volunteer emails sent out monthly. We have regular Harvest of the Month volunteer opportunities, garden workdays, building projects, beautification projects and love support from the community to get these done!
Our Contact Information
*{{Organization Name}}*
*{{Organization Address}}*
*{{Organization Phone}}*
*{{Organization Website}}*

*{{Unsubscribe}}*