Spring in the Quiet Gardens
March 2020 Newsletter
We miss seeing CSG students in the gardens, UACC neighbors at community markets, and CFJN partners in advocacy. Please know our hearts and minds are with you. Below are links to resources you can access. Our team is working to support emergency food assistance and to get the gardens robust and ready for your return. To see weekly video updates of how your gardens are growing: follow us on Facebook. In solidarity -Jeanette, Megan, Aleen, Richard, Jenifer, Shantell, Jordan, Shannon, Mackenzie, Sarah, Tami, Yolonda, Leon, Michael, Gabby, Rick & Peter
To stay up to date with Food Justice Network information: sign up for the e-newsletter at grow@cityschoolyardgarden.org
For those in need of support, please see the following community resources:
CSG Garden at Charlottesville High School
written by Peter Davis
Writing this update towards the end of March 2020 certainly feels a million times different than it would have just two weeks ago! Two weeks ago as we headed into what is now considered to be the last week of the in-person school year, we had a hunch that school might be out for a period of time. Thankfully, we were blessed with gorgeous weather and the students buckled down and got to work turning over beds, prepping for spring crops and seeding tray after tray of thousands of seeds.

When we said goodbye on that last Friday, our small farm was in the best shape it had been in by this time of year. The hoop house was full of spinach, carrots, kale, lettuce, onions and a long row of seedling trays waiting for their turn to be planted in the field. In addition to the hoop house, 70% of our outdoor beds had been planted with more greens, beets, peas, and flowers. Two long beds of trenches had been dug to prepare for potatoes and the irrigation was all set up and ready to go. I literally could not have been more proud of the hard work our students put in!

Urban Agriculture Collective of Charlottesville
written by Richard Morris
Ask any farmer what it takes to produce good food, and they will likely reply with some version of, "Good soil." Healthy life-giving soil is neither easy nor free. It takes hard work, patience, and often requires overcoming a bit of adversity.
Owing to housing redevelopment, the Urban Agriculture Collective is experiencing some adversity of its own. Our community farm has downsized from well over 40,000 square feet last year, to just 4400 sq. ft. in 2020. The loss of so much farmland has had a big impact on our projected crop production this year. We expect this loss to ripple out to the over 350 families we shared our community-raised food with last year. And yet, with the arrival of Spring, we can't help but feel excited and energized to return to the garden with all of our wonderful friends and neighbors.
To meet expected demand this year, we've reached out to local farmers through our "Harvest a Bushel for the Community" campaign. Simply put, we're asking our fellow farmers to make a donation, in produce, to help narrow our expected production gap by helping to feed Charlottesville families. If you, or a farmer you know, would like to participate, contact the UACC Farm and Foodroots Program Director, Richard Morris here.
We are excited to expand the UAC team to include the new Operations Manager, Michael James. As we interview all the new members of our team, Michael sat down and answered a few questions about himself and what he's excited about.
What got you involved with CSG?
I finished my fellowship with Tricycle in 2018 and moved to Charlottesville to start a little farm with my housemate. It just so happened he was a garden coordinator with CSG and the more we talked about his job, the more I wanted to get involved with CSG. There is so much good work being done in Charlottesville but in my mind CSG has stood out from the rest. I've volunteered with a few non-profit organizations in Charlottesville, and again they are doing great work that has to be done, but I really wanted to be part of the CSG team. I was willing to keep applying to available positions at CSG until I got a job or was told to stop. I'm so happy to be part of an organization engage with some of the difficult work that has to be done in this city and this country.

Go to our blog to see more of the interview
Meet the Board- Matt Darring and Audrey Oliver joins the team!
With the new year comes many new board members. Some of them faces that have had relationships with CSG for years and some are new faces drawn to CSG's work. This month we are excited to highlight Matt and Audrey.
Matt Darring is returning to the CSG team in a new role, the Board Treasurer. Matt was a long time Garden Coordinator at Burnley-Moran Elementary School where he helped lay the foundation for the amazing engagement that happens there now.
Check out the story where we interview her and hear a little about what brought him to join the CSG board!
A board member of CRHA and FAR, Audrey Oliver is joining our board! A long time resident of Charlottesville, Ms. Oliver is one of CSG's six new board members.

Check out interview and hear a little about what brought her to join the CSG board!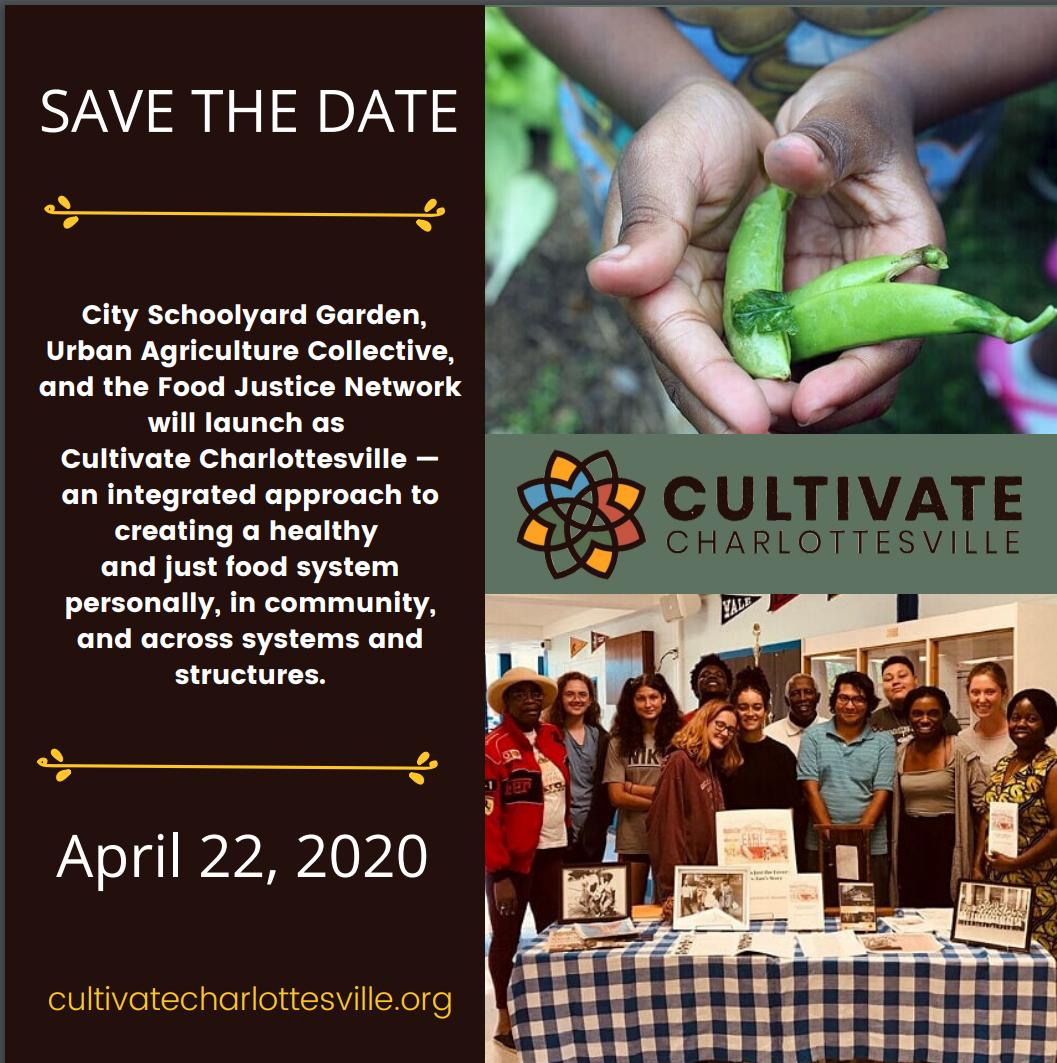 Our Contact Information
*{{Organization Name}}*
*{{Organization Address}}*
*{{Organization Phone}}*
*{{Organization Website}}*

*{{Unsubscribe}}*