Fall might just be the best season (the mosquitos have been doing their best to keep summer out of the number one spot) to experience this place.
In Charlottesville and the surrounding counties, we are in the unique position to live in this sweet spot at the base of the mountains. From hikes and camping to farms and orchards to rivers and trees, this land provides endless opportunities to bask in the abundance all around us. Come autumn, when the leaves display their most diverse and fiery hues, we've delighted in those neon green buds and first warm breezes of spring and wiped the sweat away as we've harvested and enjoy the summer bounty. Now fall bestows cooler days upon us that will take us into possible snowfall and definite bowls of piping hot soup. This is quite a place to live.
Even though some of us were born and raised in these foothills, we are not the first to cultivate and benefit from this land; the people of the Monacan Nation hiked these woods, drank from these rivers, cultivated these fields, and basked in this bounty long before us. Their descendants (a mere 2,000 currently call Virginia home) have endured hundreds of years of colonialist and racist practices to survive and live here today.
Please read our entire Indigenous Acknowledgement by clicking below and join us in sharing the stories and voices of the original stewards of this land.
Top row: Yolonda encourages unwanted insect guests to leave their perch on City of Promise's squash plants; Bottom row: Sarah and Jordan use the new Cultivate truck to pick up benches crafted by Rick Harden and place them in the gardens at Burnley Moran Elementary and City of Promise.
Farm-to-School Week by Jordan
Cultivate Charlottesville is excited to announce that Virginia Farm-to-School week and Charlottesville's Healthy Schools Week is next week! With virtual learning and a global pandemic happening, the team came together to determine if there is a way to have some Farm-to-School Week programming in place and the brainstorming just got bigger and bigger. We are so thrilled to share the exciting work with the community in new and innovative ways!
Each year Farm-to-School Week is the first full week in October. During a traditional school year build out a schedule to highlight farm animal visits in the school gardens, bring local farmers in to share their story and experiences with students, highlighted our Harvest of the Month program, and collaborated with CCS Nutrition program to incorporate local, fresh food into the menu during this week. We plan to continue each component for Farm-to-School 2020—although the whole process will look very different in implementation. Here's a little about with the week has to offer!
Farm Animal Visits
This year, we are hosting very small gatherings of students in the gardens—including students from Hearthwood apartment at Greenbrier, students from Friendship Court at the 6th Street UAC plot, students from Westhaven at the Garden at City of Promise, and students from the prospect neighborhood at Buford Middle School. We are planning to bring in chicks, goats and chickens to programming this year—sharing an opportunity to understand the impact that these farm animals have on our lives.
Harvest of the Month
Usually Harvest of the Month is highlighted in the cafeteria for a taste test. This year, we have purchased "bunches" (hint hint) of the highlighted crop and will be putting the fresh crop into the school meal bags next Thursday October 8th to cook at home. Each bunch will be paired with our backpack flier highlighting recipes, tips for cooking, and link to a video for step by step instructions for cooking them.
Fresh Meals
The nutrition department is excited to continue the fresh meals into the menu. On Friday October 9th, CCS will be providing a from-scratch meal to CCS students who pick up the lunch at a distribution site. Check out the CCS nutrition website for more information.
Bonuses
Keep an eye open for a video of a read-aloud by Juandiego Wade, Cultivate Charlottesville Board Member and City School Board Member. He is reading one of our favorite Harvest of the Month books Up, Up, Up! It's Apple Picking Time.
Food Justice Interns prepare to meet with Representative Sally Hudson and present their ideas on improving school kitchen resources and meals
URBAN AGRICULTURE COLLECTIVE
Secret Greens by Farmer Rich

At UAC, it's our favorite time of the year, and we don't mean just the upcoming holidays, or even Autumn. We mean, it's sweet potato pulling season! And while we have four delicious varieties of greens coming up in the garden: mustard, collards, and kale, the real star of the Fall garden are those amazing sweet potatoes.

The time to pull sweet potatoes is when the plants tell you that they're ready. They do this by signaling the gardener with wilted browning leaves. The UAC sweet potato leaves are still a rich, deep blue-green, so they're not quite ready yet. But we said we had four different greens coming up the garden, didn't we? The fourth is one you might not know about, and that is the leaves of the sweet potato!

Yes, those leaves and vines are edible and just like your other favorite greens, they contain healthy vitamins like A, C, and D. There are also good-for-you minerals, like calcium, magnesium, and potassium. You can add raw shredded sweet potato greens, as an accent, to a salad, for a more complex flavor profile, or you can cook them. Depending upon how you eat them, they may be mild, slightly bitter or even sweet, like spinach.

If you've been patiently waiting on your sweet potato leaves to start wilting, wait no more and try this simple recipe. Harvest a modest amount of greens. Separate the stems and vines and chop them up. Sauté lightly in olive oil until tender. Add the leaves, stirring gently until lightly cooked. Salt and pepper to taste. Done. You can find additional recipes online.

The Fall garden is full of surprises and undiscovered treasure. All you have to do is look, learn, and taste.
UAC Market Day clockwise from top left: A plethora of peppers; Mike, Nick, Miss Rosa, and Miss Connie are ready to pack bags for residents; Fresh green beans and tomatoes for the taking; Fresh produce makes Mike smile shine right through his mask
The Food Justice Network continues to work with partners on COVID wrap-around services, support, and expansion beyond the Charlottesville-Albemarle area to the Thomas Jefferson Health District. This work would not be possible without the dedicated efforts of the City of Charlottesville Department of Human Services, UVA Equity Center, Thomas Jefferson Health District, and Albemarle County Office of Equity and Inclusion all meeting weekly to coordinate expansion.
We finished our this summer strong with the help of Elza Thomas, Equity & Environmental Fellow, who helped lay the foundation for the Food Security Text Messaging Service. Our team is grateful for the collaboration and looking for a semester fellow to continue the work. If you're interested, please reach out to Program Associate, Gabby Levet at gabby@cultivatecharlottesville.org for more information.
Urban Agriculture Collective Volunteer Schedule Summer/Fall 2020
For more information or to join Food Justice Network full team meetings, contact Gabby Levet at gabby@cultivatecharlottesville.org
From Farm to Plate: The Impact of COVID-19 on Food, Nutrition, and Farming
Join Cultivate Charlottesville Board Member Paul Freedman of UVA Department of Politics, Richard Morris of Cultivate Charlottesville's Urban Agriculture Collective, and Kristen Suokko of Local Food Hub on September 29 from 4:00 to 5:15 pm for a panel discussion on the impact of the Covid-19 pandemic on local food production and food systems. Register for this FREE virtual event here.
CULTIVATE SOCIAL JUSTICE BOOK CLUB
Charlottesville City Schools Labor Day meals for students clockwise from top left: Major Strong of the Salvation Army takes lunches to distribution sites in different neighborhoods; Board member Rachael Boston with husband Marc Boston and their girls helped to prepare meals; Students receive fresh, healthy meals from local restaurants Pearl Island and Keevil & Keevil; Habit for Humanity brings their truck to help with meal distribution
From all of us at Cultivate Charlottesville—a hearty thank you to the many new supporters that have pitched in to keep our work going to build food equity during COVID-19 and beyond.
CULTIVATE POSITION OPENINGS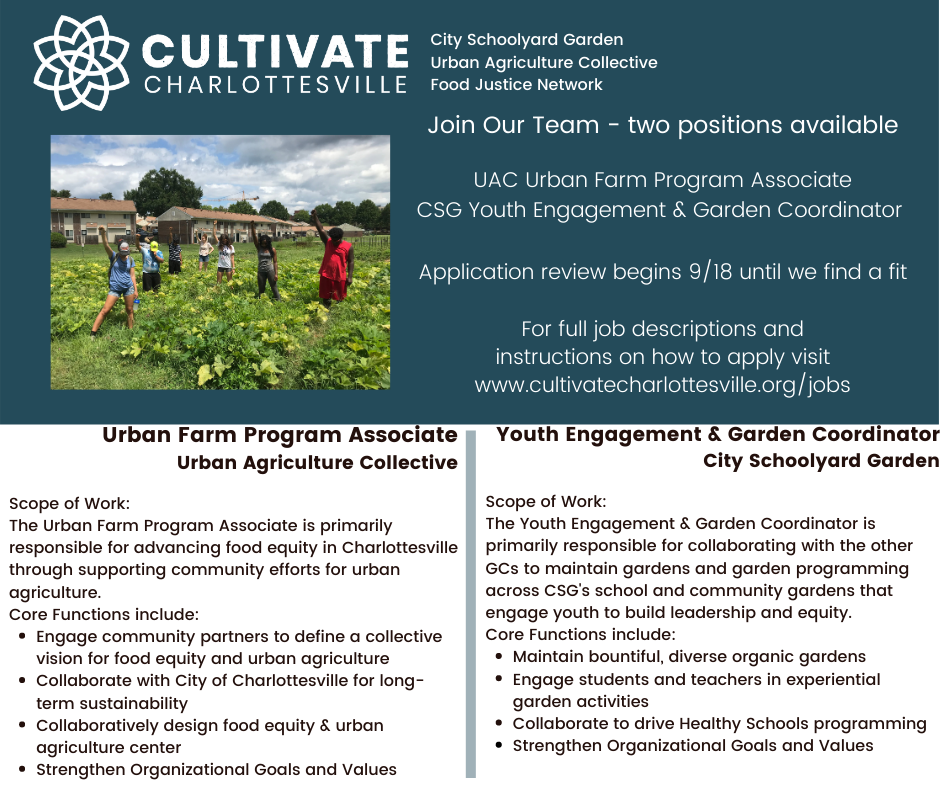 At Cultivate Charlottesville we believe that working together to grow gardens, share food and power, and advocate for just systems cultivates a healthy community for all.
Our Contact Information
*{{Organization Name}}*
*{{Organization Address}}*
*{{Organization Phone}}*
*{{Organization Website}}*

*{{Unsubscribe}}*