As August comes to an end, two core initiatives investing in youth leadership and community health are moving into the next phase of work. The Food Justice Interns under the tutelage of Miss Shannon and a team of Cultivate staff members have completed their summer session and are—along with their classmates all over the city—preparing for the virtual beginning of the school year. This year, the Youth Intern team will continue a robust schedule during the academic year. Food Justice Network's collaboration with Frontline Foods and multiple partners to organize a distribution initiative that helped businesses owned by people of color to survive while providing meals to folks who needed emergency food access is shifting gears as well.
At the same time, the summer show still goes on! Gardens at the schools and in the community are being tended while connections with everyone from the City Schools to the University to our two major health systems to local donors are still being cultivated each and every day.
We look forward to having the interns back for new sessions in the gardens and possible new partnerships with some of our closest COVID-19 community collaborators. Stay tuned!
Young gardener extraordinaires Jayleana (left) and Sanai in front of a plethora of squash blossoms; Jayleana (and her brother Legend) after harvesting the a few veggies for dinner
Student Interns Work it Out by Miss Shannon
Y'all—gardening in face masks during a heatwave is not. a. joke. This summer, we hosted ten incredible young people who were willing to put up with the extra sweat and contribute towards building a better, more nourished community. To say I am proud of this year's Youth Food Justice Intern cohort would be an immense understatement. For six weeks during a summer of unprecedented upheavals, record high temperatures and drought, our team of ten accomplished so much! Read more about Manny, Ally, DaTayveyus, Lynaisha, Keyshanna, Aina, Sethaun, Hallie, BriAsia, and Rosy and their intensive summer of food triumphs. Keep in touch with our Instagram to see each of their Food Justice Leadership Cards that are being rolled out week by week. @cultivatecharlottesville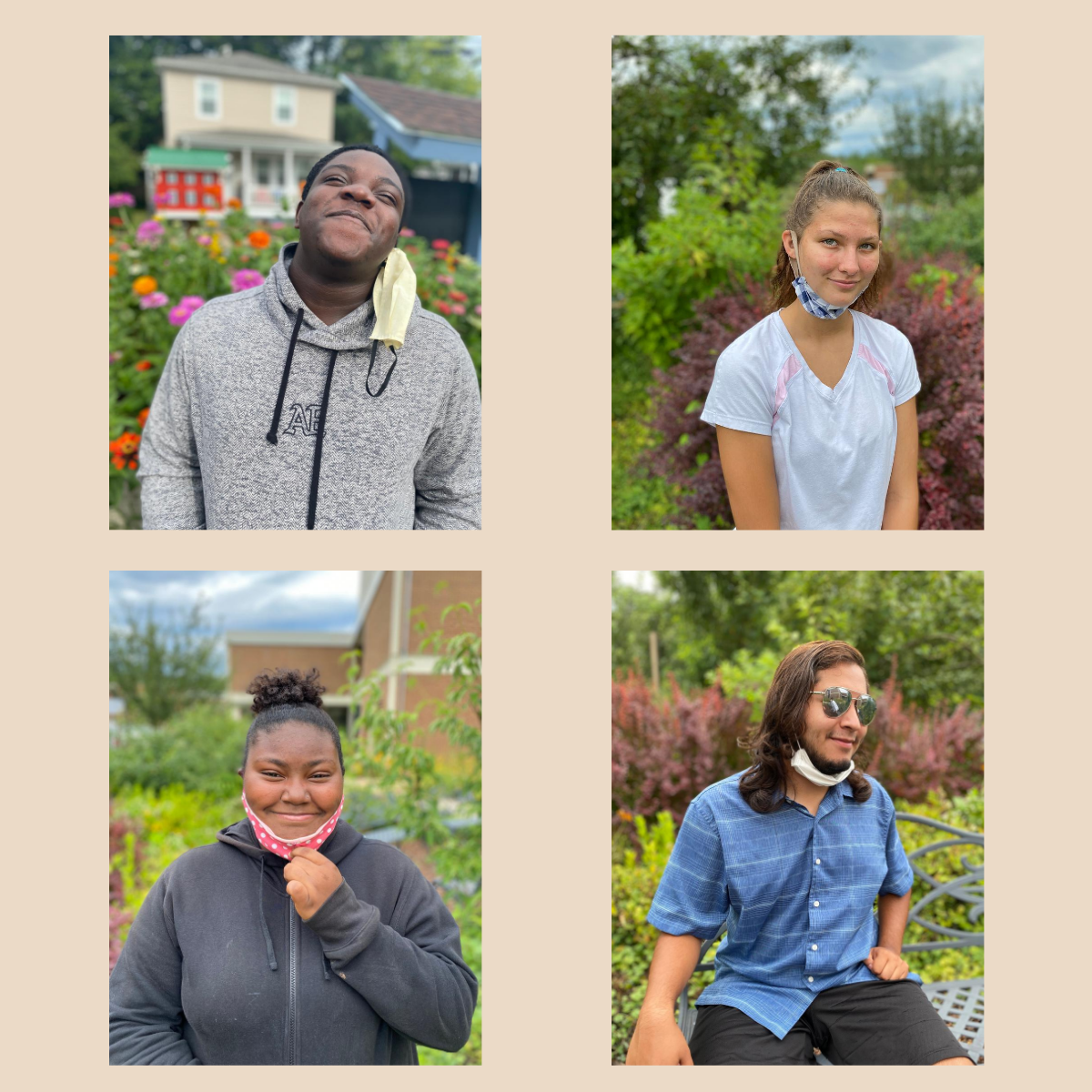 Intern picture day, clockwise from top left: DaTayveyus; Ally; Keyshanna;
and Cultivate Garden Associate (and former intern) Leon!
URBAN AGRICULTURE COLLECTIVE
An Ode to Mid-Summer by Farmer Rich
It's that time of year, exactly midway through the growing season, when the garden begins to look a little tired. Even brightly colored sunflowers hang their heads in exhaustion. Bare earth lies exposed in neat rows while Fall seedlings sprout in trays beneath the grow lights in the farm shop. In a pile beneath a tree, a mound of wilted greens and the remnants of expired plants wither in the sun. These are the dog days of Summer.
It's the time of year when gardens let out a long deep sigh after the labor of producing bright red tomatoes, yellow squash, and a sea of leafy greens from the season's start. It is a brief period of rest. But this period won't last long. Soon, we'll be planting Fall collards and kale. Radishes and turnips will begin peeking up out of the soil. And when the days have grown a bit shorter, the nights cooler, and the potato vines have lost their luster, it will be time to hunt for treasure.
That treasure is the burnt gold of our favorite Fall crop, sweet potatoes. More about them in a future post, but it's enough to reenergize us to take up the garden fork and the pruning shears. To head "once more into the fray" of the mid-season garden. Come and join us on our next Volunteer Saturday. Check out the schedule on the Cultivate Charlottesville Volunteer page.
Clockwise from top left: The zinnias exploding with color at the 6th Street garden; Farmer Michael shows fresh produce to a community member on a Market Day; The tomatoes coming in at the 6th Street garden; the Market Day volunteers (wearing face masks) preparing to hand out produce on a rainy day
Stepping Towards Equity with COVID19 Community Meals by Shantell & Gabby
The end of July and beginning of August marked a transition in the COVID-19 local emergency food response as Frontline Foods/World Central Kitchen phased out their Community Meals program. The Community Meals program, an initiative fostering social and economic impacts, was operated by Frontline Foods (FLF) volunteers and the Cville Community Cares mutual aid group, in collaboration with the national World Central Kitchen emergency food relief organization.
Since April, over 61,000 hot meals prepared by local restaurants have been distributed across specific community sites and neighborhood locations. Cultivate's Food Justice Network played a key role in bringing stakeholders together and leading Frontline Food's ability to advance racial equity during emergency response. Specifically, FJN's leadership team developed the Frontline Foods Steering Committee, a stakeholder group that met bi-weekly to advise local operations and establish food equity principles and practices for the relief program. One key practice was to focus on ensuring small and minority owned restaurants were included in the pipeline.
FJN leadership moving to collaborate with FLF's team was full of enthusiasm and some concern. After all, the initiative was a new project in an already crowded non-profit scene setting out to do food access, yet leaned into for-profit business in a pay-it-forward fashion. Put simply, the bill to support such an initiative would be large. The initiative began to show promise when local FLF leadership sought to understand concerns and responded by making commitments to avoid local funding networks (a key source for many FJN organizational partners), as well as follow the guidance of Steering Committee partners to uplift equity practices.
Community members prepare to distribute meals during the COVID-19 pandemic
Photos courtesy of Cville Community Cares
MEET OUR NEW STAFF MEMBER

Click for Urban Agriculture Volunteer Schedule Summer/Fall 2020
CULTIVATE SOCIAL JUSTICE BOOK CLUB
From all of us at Cultivate Charlottesville—a hearty thank you to the many new supporters that have pitched in to keep our work going to build food equity during COVID-19 and beyond.
Clockwise from top left: Jordan, Shantell, Gabby, and Zach work to fill bags; Fresh produce pick up from the IRC New Roots farmers; Jennifer, Gabby, and Shantell set up for Community COVID-19 testing at Friendship Court; Bags of fresh produce ready for pickup
At Cultivate Charlottesville we believe that working together to grow gardens, share food and power, and advocate for just systems cultivates a healthy community for all.
Our Contact Information
*{{Organization Name}}*
*{{Organization Address}}*
*{{Organization Phone}}*
*{{Organization Website}}*

*{{Unsubscribe}}*